11 Ways to Maximize Your Credit Card Air Miles
Many people sitting in first class aren't rich – they're just smart spenders. Travel hackers know that credit card air miles programs are one of the easiest ways to score free plane tickets, hotel rooms as well as business-class and first-class upgrades. From strategic spending to which cards you carry in your wallet to managing all your air miles, traveling first-class on a bus budget is just a matter of paying attention to how the system works.
If you're ready to maximize your credit card air miles, here are eleven hacks to help you start traveling for free… or close to it!
Look for sign-up bonuses
Often, credit card issuers offer sign-up bonuses for new customers who meet certain requirements. For example, the Bank of America® Travel Rewards credit card - 25,000 Bonus Points Offer will award new customers 25,000 bonus points after spending $1,000 on purchases within the first 90 days. Some high-bonus cards, including the Bank of America® Travel Rewards credit card - 25,000 Bonus Points Offer, don't even have an annual fee. This gives you an opportunity to earn a huge bonus plus additional points based on your spending without paying a dime by avoiding other fees.
Here's a travel tip: the sign-up bonuses are even bigger than advertised! Why? Either you won't earn it (boo!) or you'll get the bonus plus the additional miles based on the minimum spend (yay)! Make sure to read your card agreement carefully to make sure that you qualify for the bonus and won't lose any miles accidentally.
Bank of America® Travel Rewards credit card - 25,000 Bonus Points Offer
Benefits & KEY FEATURES
Earn unlimited 1.5 points per $1 spent on all purchases, with no annual fee and no foreign transaction fees and your points don't expire
25,000 online bonus points after you make at least $1,000 in purchases in the first 90 days of account opening - that can be a $250 statement credit toward travel purchases
Use your card to book your trip how and where you want – you're not limited to specific websites with blackout dates or restrictions
Redeem points for a statement credit to pay for flights, hotels, vacation packages, cruises, rental cars, or baggage fees
Comes with chip technology for enhanced security and protection at chip-enabled terminals
0% Introductory APR for 12 billing cycles for purchases. After the intro APR ends, 17.24% - 25.24% Variable APR will apply
If you're a Preferred Rewards member, you can earn 25% - 75% more points on every purchase
Skip airline-branded credit cards
If you really want to maximize your spending, don't get an airline-branded card, which usually only offers one mile for every dollar spent. Instead, try a credit card that offers points that can be redeemed for miles. For example, the Capital One® Venture® Rewards Credit Card offers 2 miles for every dollar spent on any purchase, plus an early-spend bonus of 50,000 miles once you spend $3,000 on purchases within 3 months from account opening, equal to $500 in travel. With these types of credit cards, you'll also have more flexibility with your points if you want to use them for a hotel room or rental car instead of just plane tickets. Learn more about skipping airline-branded credit cards.
Capital One® Venture® Rewards Credit Card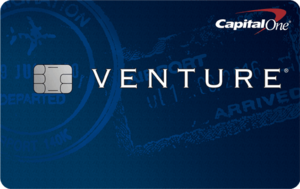 Benefits & KEY FEATURES
Enjoy a one-time bonus of 50,000 miles once you spend $3,000 on purchases within 3 months from account opening, equal to $500 in travel
Earn 2X miles on every purchase, every day. Plus earn 10X miles on thousands of hotels, through January 2020; learn more at hotels.com/venture
Named 'The Best Travel Card' by CNBC, 2018
Receive up to $100 application fee credit for Global Entry or TSA Pre✓®
Fly any airline, stay at any hotel, anytime; no blackout dates. Plus transfer your miles to over 12 leading travel loyalty programs
Miles won't expire for the life of the account and there's no limit to how many you can earn
No foreign transaction fees
$0 intro annual fee for the first year; $95 after that
Dine out strategically
Many airline frequent flyer programs offer dining promotions that offer bonus points or miles for eating out at select restaurants. Each time you dine out, you earn miles on what you charge – tax and tip included! Since these programs are absolutely free, sign up for every single one you think you'll use. You'll be earning your next trip with your meal, and it should taste better than airline food!
Shop through an online marketplace
Many major credit card companies offer portals where people can access a variety of online shopping sites. For example, Barclaycard has a RewardsBoost program where card members can earn rewards for shopping at popular stores like J.C. Penney, Kohl's, AT&T Wireless, Enterprise Rent-a-Car, Discount Tire, and much more. All you have to do is connect to these retailers through Barclaycard's online marketplace and you can earn up to 25 points per dollar spent. And if you have multiple cards that offer online marketplaces, you can use a site like evreward.com to find out which one offers the best bonus for each store.
Upgrade your status
Some credit cards reward customers with airline elite status if they spend a certain amount each year. For example, if you spend $40,000 in a year on your Citi® / AAdvantage® Executive World Elite™ Mastercard®, you can get 10,000 Elite Qualifying Miles on American Airlines. Often, though, the trade-off for generous rewards programs usually comes in the form of a high annual fee (Citibank's is $450 a year!), so it's critical to make sure the bonuses you are earning outweigh the cost of the card.
Citi® / AAdvantage® Executive World Elite™ Mastercard®
Benefits & KEY FEATURES
Earn 50,000 American Airlines AAdvantage® bonus miles after spending $5,000 in purchases within the first 3 months of account opening
Admirals Club® membership for you and access for guests traveling with you
Complimentary Admirals Club® lounge access for authorized users
Earn 10,000 AAdvantage® Elite Qualifying Miles (EQMs) after you spend $40,000 in purchases within the year
No Foreign Transaction Fees on purchases*
Earn 2 AAdvantage® miles for every $1 spent on eligible American Airlines purchases and 1 AAdvantage® mile for every $1 spent on other purchases
First checked bag is free on domestic American Airlines itineraries for you and up to 8 companions traveling with you on the same reservation
Keep your account alive
Most air mile cards require some form of account activity at least once a year or every 18 months; without it, the issuer could close your account and take away your miles. But this doesn't mean you have to make a big purchase just to keep your account alive. Charging something to the card that you need to buy anyway, such as a tank of gas or groceries, could be enough to keep your credit card air miles account open.
Never carry a balance
Paying interest on a credit card balance defeats the purpose of earning air miles. Say you have a $5,000 balance on your card with the average airline credit card interest rate of 16.24%. If you pay $100 a month toward the balance each month, it would take you 7 years and cost an extra $3,399 just in interest alone. That's way more than a plane ticket!
Stay organized
It can be difficult to keep track of all the miles and rewards programs from your various credit cards. In order to get the absolute most out of these programs you have to stay organized. Instead of building time-consuming spreadsheets from scratch, sign up for a free service like Award Wallet, which manages personal loyalty program accounts. You can track all your rewards in one place, plus you'll get an alert when your points are about to expire.
Become a loyal customer
Loyalty programs were created to reward customers for their repeat business, so find your favorite airlines and hotels and stick with them. Eventually, your loyalty will be rewarded with more points and free travel and hotel rooms. This takes more time than maxing out a sign-up bonus, but it's an important part of the travel hacking strategy. It's much better to have 100,000 miles in a single account than 20,000 miles in five separate programs.
Take online surveys
You can actually earn free credit card air miles without having to spend a dime. Sites like e-rewards and e-miles offer airline miles in exchange for taking surveys. E-miles has partnerships with major travel companies like Southwest, American Airlines, United and Hilton, and e-rewards works with Alaska Air, Frontier, Hertz, JetBlue and Radisson. Just keep in mind that time is money, so make sure the payoff is worth your effort.
Trade points
If your free air miles are spread across multiple rewards accounts, consolidating them can give you more purchasing power. Points.com is another service that helps you manage your credit card air miles and rewards, but it's also a place where you can trade, transfer and purchase points between your programs. If you decide to trade your points, the site will let you know if you will lose any miles in the transfer, as well as if there are any additional bonus offers for which you may qualify.
We even have a bonus hack for you: Before you plan your next trip, check out and compare all our recommended air miles credit cards.
Photo ©iStockphoto.com/suriyasilsaksom