Advertiser Disclosure
Credit Cards for Bad Credit
Even if you have a bad credit history or limited credit history, there's no reason to give up hope of regaining control of your credit future. There are credit cards available even to consumers in your circumstances. A credit card is one tool that can help you build your credit history. Ultimately, only you can turn your credit problems around, and each person's credit situation is different. But always making on-time payments on all of your obligations and keeping your balances low relative to your credit limits are two of the most important things you can do to positively affect your credit profile. We've compiled a list of top credit cards for bad credit for those with less than perfect credit, and you are eligible to apply for any of these offers. Below you will find our most popular credit card offers for people with bad credit:
Horizon Gold Card
Instant $500 Credit Line*
No Credit Check
Fast Online Application
Bad Credit - OK
Intro APR
(Purchases)
N/A
Intro APR
(Balance Transfer)
N/A
Annual Fee
$24.95 benefits plan membership will be auto-debited monthly
Loans Under 36 - Personal Loan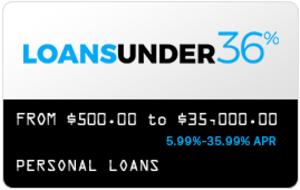 Benefits & Key features
Loans up to $35,000
Suitable for those with all credit ranges
APR varies from 4.99% up based on customer information
Great for consolidating debt
No obligation fee
Decision within minutes
Poor / Fair / Good
Intro APR
(Purchases)
N/A
Intro APR
(Balance Transfer)
N/A
First PREMIER® Bank Secured Credit Card
YOU CAN DO MORE THAN JUST GET BY - Since 1989, First PREMIER Bank has worked to help individuals and families with less-than-perfect credit obtain the credit they need to improve their financial

health.*

You don't need perfect credit for a First PREMIER® Bank Secured Credit Card
If approved, fund your Security Deposit to open your account. Once open, you will have the opportunity to build your credit limit up to $5,000.
Reports to consumer reporting agencies help you monitor your financial progress to build credit (build credit by keeping your balance low and paying on time every month)
Enjoy peace of mind with free identity theft resolution services (subject to Mastercard guidelines)
Credit scores are used to represent the creditworthiness of a person and may be one indicator to the credit type you are eligible for. However, credit score alone does not guarantee or imply approval for any First PREMIER® Bank product.
Intro APR
(Purchases)
N/A
Intro APR
(Balance Transfer)
N/A
Regular APR
See Issuer Website
Annual Fee
See Issuer Website